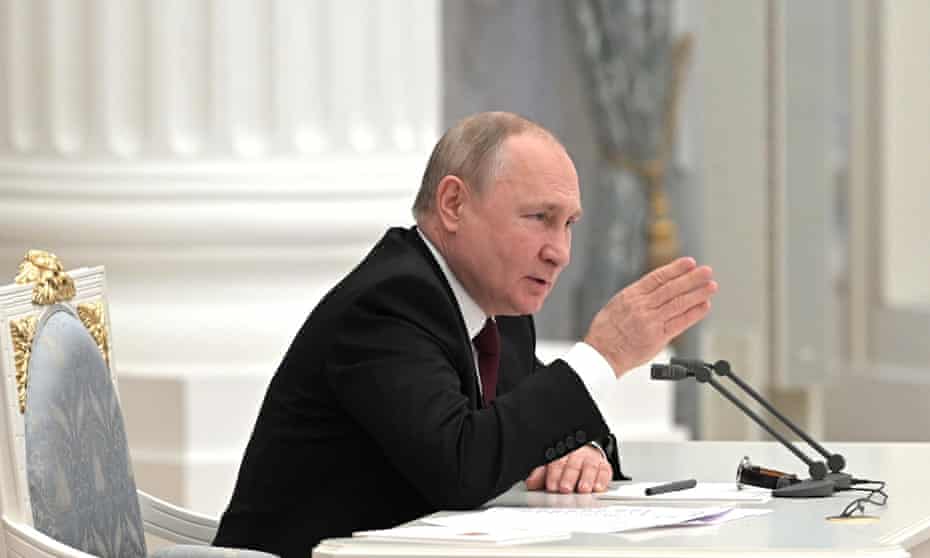 Vladimir Putin will recognise the Russian-controlled territories in southeast Ukraine as independent states in a pivotal decision, scuttling an existing peace agreement and possibly triggering tough new sanctions from the west.
Putin announced the decision in a televised speech marked by the Russian leader's visceral anger at a country he has called a "brother nation".
It remains possible that Putin will next send in his military to "defend" the regions in a prelude to a larger war in east Ukraine, or even a full-scale invasion of the country, using the estimated 150,000 troops that he has mustered near Ukraine's borders.
"Those who took the path of violence, bloodshed and lawlessness did not recognise and don't recognise any other solution to the Donbas problem besides the military," Putin said. "Therefore I believe it is necessary to take a long overdue decision to immediately recognise the independence and sovereignty of the Donetsk People's Republic and Luhansk People's Republic," the Russian proxy states in east Ukraine.
State television then broadcast a short video showing Putin signing a presidential order to recognise the two Russian-backed states. The separatist leaders were also present.
Putin told France's Emmanuel Macron and Germany's Olaf Scholz in advance that he planned to recognise the Russian-backed Donetsk and Luhansk People's Republics as independent states on Monday.
The two leaders expressed "disappointment" at the decision, according to a Kremlin readout.
France and Germany are both signatories of the Minsk agreements, a peace deal that will probably be abandoned as a result of the Russian decision.
Boris Johnson said Putin's decision to recognise the two separatist Ukrainian republics was "plainly in breach of international law. It is a flagrant violation of the sovereignty and integrity of Ukraine." He also described it as an "ill omen" and a "dark sign" that things are moving in the wrong direction.
In his rambling remarks, Putin condemned Ukraine's decision to move on from its Soviet past, painting the de-facto partition as his punishment.
"Modern Ukraine was wholly and fully created by Bolshevik, Communist Russia," he said. "You want decommunisation? That suits us fine. But don't stop halfway. We're ready to show Ukraine what real de-communisation means for it."
The announcement followed an extraordinary meeting of his security council broadcast on national television, where the Russian president said he would make a decision later on Monday after a choreographed back-and-forth with his top advisers designed to prepare public support for the decision.
"We've been negotiating for eight years," Putin told his aides at one point during the security council meeting. "We're at a dead end."
In turn, each of Putin's top advisers stood at a lectern and delivered a speech that ended in favour of recognition of the separatist states in Ukraine's Luhansk and Donetsk regions, which have been at war with Kyiv since 2014.
It ended in a made-for-TV cliffhanger. "I have heard your opinion – a decision will be made today," Putin said. The broadcast then quickly cut to a news anchor.
Putin has instructed his subordinates to "maintain tensions" with the west as he seeks "security guarantees" that would in effect reconstitute a Russian sphere of influence in eastern Europe.
To that end, Russia has amassed up to 190,000 troops on Ukraine's borders, threatening a massive invasion that could target Kyiv and other cities, according to western officials.
The threat of official recognition for its two proxy states in Donetsk and Luhansk has also been a part of that pressure campaign. Russia has controlled and armed the two states since the outbreak of fighting in south-east Ukraine after a revolution in Kyiv in 2014 but wanted to keep them in Ukraine with the right to veto crucial decisions, such as membership of Nato.
Ukraine has said it will contest any decision by Russia to recognise the territories' independence and would recognise the move as a Russian decision to exit the Minsk agreement, the peace deal signed in 2015 that now appears close to collapse.
After Putin's speech, Dmytro Kuleba, Ukraine's foreign minister, said he had called for UN security council states to hold consultations under the Budapest memorandum to "discuss urgent actions aimed at de-escalation, as well as practical steps to guarantee the security of Ukraine".
This likely sets the stage for a meeting of the security council where Ukraine can put its case to the world. Any of the members can request an urgent meeting, which has to be held within 24 hours of the formal demand going in.
Russia is the security council president and so may be able to control whether the meeting is closed or open. However, western member states that have been pushing hard for a diplomatic resolution to the crisis are likely to group together in a show of strength, one envoy said.
Kuleba warned that any move to give the territories official status would represent a dangerous escalation.
"Not only Ukraine, the entire world now closely follows Russia's actions regarding the recognition of the so-called L/DPR. Everyone realises consequences. A lot of emotions out there, but it's exactly now that we all should calmly focus on de-escalation efforts. No other way."
Ukraine's former defence minister Andriy Zagorodnyuk said any attempt by Russia to expand the territory controlled by pro-Moscow separatists would mean a full-scale war with Ukraine.
The historic borders of the Luhansk and Donetsk regions are much larger than the exiting pro-Moscow-run areas. Key Ukrainian cities include the port city of Mariupol, Kramatorsk – where Ukraine's army has its eastern HQ – and numerous villages.
"Those regions are regular towns where people live regular lives. Any attempt to occupy those areas would be direct violent aggression by Russia on to Ukraine. There would be war," Zagorodnyuk said.
Putin may still choose not to recognise the two states' independence, using the staged debate with his advisers to show western leaders that they are running out of time to negotiate. But it appears more likely he will follow the unanimous advice of his aides and close allies to recognise the two territories in a dangerous shift of the status quo.
The decision could either freeze the conflict in south-east Ukraine or reignite it, depending on the Ukrainian response and whether Putin seeks to take further territory.
Putin's move surprised some analysts, who said that they believed that recognising the states as independent could relieve Putin of some of his leverage over Ukraine.
"This is not where I thought we end up. I still do not see at all what is to be gained from the recognition of the Donbas," said Prof Sam Greene, the director of the Russia Institute at King's College London. "The breakaway regions were more useful for Putin formally as part of Ukraine than outside Ukraine."
But Putin may be searching for a win in his high-stakes confrontation with the west, in which he has sought to convince Joe Biden and other western leaders to pressure Ukraine into acceding to Russia's demands or face a potentially devastating war.
In their public discussion on Monday, Putin and his advisers made a show of airing their frustrations with Ukraine's leadership. "If we speak about the situation that has unfolded around the [Donetsk People's Republic] and [Luhansk People's Republic], then it's entirely clear that Ukraine in principle does not have use for these territories," said Dmitry Medvedev, the former president of Russia, as he cast his vote for the proposition.
Dmitry Kozak, the Kremlin lead on talks with Ukraine, said the west was trying to "purposefully stall" in its negotiations with Russia and that no negotiated settlement was possible.
By assembling his top advisers, Putin was also making a case for himself to approve the recognition of two territories that do not hold the same kind of appeal or cultural significance as Crimea, the Ukrainian peninsula annexed by Russia in 2014. Donetsk and Luhansk are both known for their coal mining and heavy industry and have become severely economically depressed since the outbreak of the war in 2014.
At moments the meeting resembled a reality TV show as Putin's advisers each took their turn making their case. Putin claimed that he hadn't warned them of the meeting ahead of time, although that was difficult to believe.
Monday's decision was preceded by a series of incidents on the border that indicated the Kremlin was creating a case to recognise its proxy territories in southeastern Ukraine.
The Russia-backed leaders last week announced a formal evacuation of the two territories, citing the rise in artillery fire and claiming that Ukraine was planning to launch a large-scale assault.
And on Monday, Russia claimed its soldiers had killed five "saboteurs" who crossed the border from Ukraine into the Rostov region, as fears intensified that the Kremlin was creating a case to mount an invasion of Ukraine. No evidence was presented to support the claim, which was dismissed by Kyiv as the latest in a series of fake statements by Moscow.
Russia's Southern Military District (SMD) said a Federal Security Service (FSB) border patrol had identified a sabotage and reconnaissance group that had breached the border near the village of Mityakinskaya in the early hours of Monday morning. The border patrol allegedly called in troops for backup and in the ensuing clash five Ukrainians were killed, the SMD said.
Ukraine dismissed the account as false information. "Another fake. We don't have people there, nor could they be [there]," Ukraine's military said.
Russian officials earlier also said that a Ukrainian shell had destroyed a border facility used by the FSB.
Additional reporting by Pjotr Sauer, Julian Borger, Emma Graham-Harrison and Luke Harding