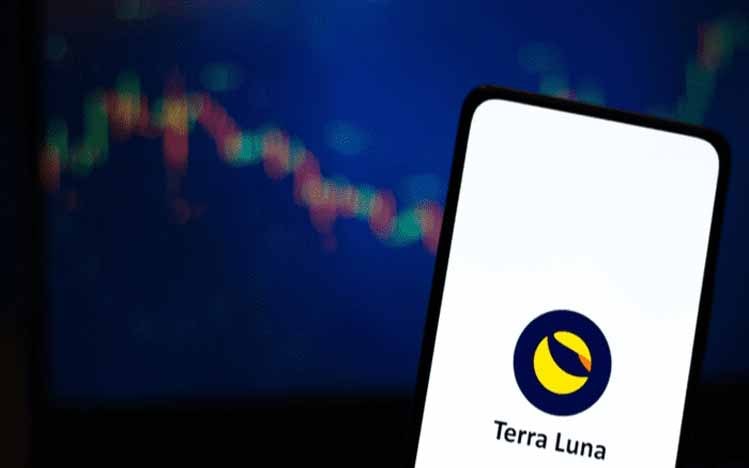 Kanalcoin.com – Coin Crypto Luna yang merupakan coin native cryptocurrency dari platform Terra, harganya terus mengalami penurunan dalam 24 jam terakhir, dari data grafik yang ditampilkan oleh coinmarketcap  berdasarkan volume transaksi perdagangan di exchange, harganya mencapai 5,11 USD turun sekitar 85% dari harga tertinggi 34,28 USD.
Volume perdagangan yang terus turun mengakitbatkan market capital Terra (LUNA) turun dan keluar dari top 10 marketcapital cryptocurrency.
Terra (LUNA) merupakan  Coin Native Cryptocurrency di Platform Terra yang menjaga  Stable coin pada ekositem Terra tetap stabil 1:1 dengan mata uang Fiat Patokannya seperti, Terra USD (UST), Terra KRW (KRT), dan Terra MNT (MNT).
Berbeda dengan token stabil coin lainnya USDT dan USDC, yang mengatakan dalam whitepapernya bahwa  patokan 1:1 dijamin dengan mata uang fiat yang disimpan sebagai cadangan di Bank. Token Stabelcoin Terra (UST) dijamin dengan token native cryptocurrency LUNA dalam ekosistem Terra.
Harga Terra USD (UST) yang keluar dari patokan 1:1 pada tanggal 8 Mei, diikuti dengan penurunan Coin Native Terra (LUNA) sebesar 14%.
Penurunan tersebut dikaitkan dengan pelepasan 285 juta UST di platform Curve dan Binance oleh satu ikan paus di crypto, yang disebutkan oleh Caetano Manfrini, Petugas Hukum di Perusahaan Crypto di Brazil, pada Twitternya.
today's attack on Terra-Luna-UST was deliberate and coordinated. Massive 285m UST dump on Curve and Binance by a single player followed by massive shorts on Luna and hundreds of twitter posts. Pure staging. The project is bothering someone. 🌝 on the right path!

— Caetano Manfrini (@CaetanoManfrini) May 8, 2022
Salah satu pendiri dari Terra Platfrom, Do Kwon mengatakan dalam twitternya bahwa 10 Milliar USD dalam Bitcoin telah disiapkan sebagai cadangan token.
"$UST dengan $10B+ di $BTC cadangan akan membuka era moneter baru dari standar Bitcoin", kata Do Kwon, pada twitternya.
(*)