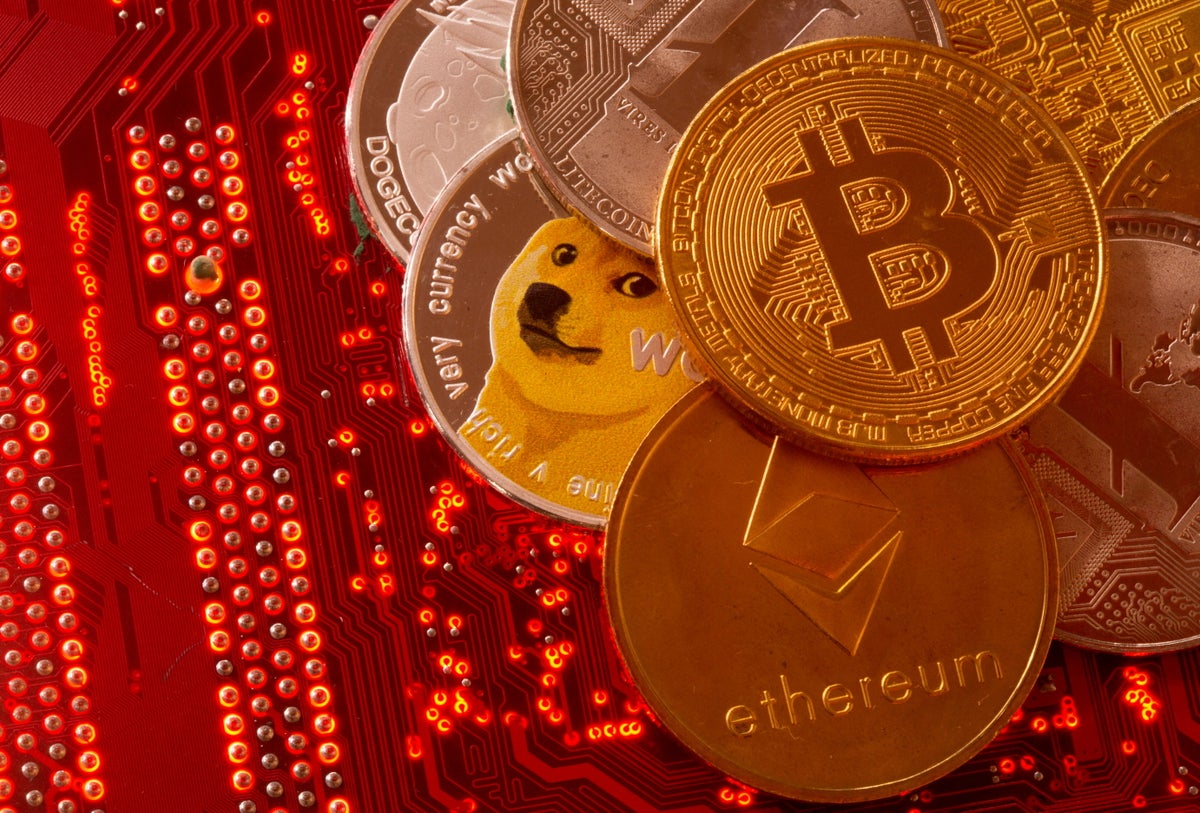 Bitcoin has crashed below $24,000, reaching its lowest levels since the end of 2020.
More than $200 billion has been wiped off the entire cryptocurrency market on Monday morning.
It is the latest in a series of price crashes for the cryptocurrency, which has seen it drop more than 60 per cent in value over the last seven months.
Several leading cryptocurrencies, including Ethereum (ETH), Cardano (ADA), Solana (SOL) and Dogecoin (DOGE) experienced even heavier losses than bitcoin, falling by between 15-25 per cent over the past day.
While many crypto holders are liquidating their assets, crypto lender Celsius told customers that they would be temporarily unable to withdraw funds from the platform.
"Due to extreme market conditions, today we are announcing that Celsius is pausing all withdrawals, Swap, and transfers between accounts," the company said today.
1655122838
Bitcoin could be on the verge of a breakdown and a 'crypto winter' might be approaching, one expert has suggested.
"Crypto hobbles into the week somewhat beholden to the whims of the stock markets, clearly on pins and needles over May inflation numbers – the U.S. Consumer Price Index (CPI) report dropped on Friday; its bottom line, not what anybody wanted to hear. Economists expected the CPI to rise 8.3% year over year, but the headline inflation level actually came in at 8.6%. Wall Street was groping for a sign that inflation may have peaked. So is the Federal Reserve", Rich Blake, a financial consultant at Uphold, told The Independent.
"Minutes before Friday's CPI report, Bitcoin was battling to stay above $30K. Hours earlier, it was under $29,000 and appeared to be on the verge of a breakdown. A looming hazard of a 'crypto winter', now hangs in the balance."
Adam Smith13 June 2022 13:20
1655122287
Crypto exchange Binance blocks bitcoin withdrawals amid market collapse
A stuck transaction meant there was a backlog in the company's systems and it was unable to fulfil people's requests, the company said.
Changpeng Zhao, the Binance chief executive who goes by the name CZ, said on Twitter that people's funds were safe.
Adam Smith13 June 2022 13:11
1655121638
It has been suggested that this price plunge reveals that investors are not as keen on crypto's risk as much as they were. Cryptocurrency is one of the most volitile assets.
"The crypto market has been under pressure from the Federal Reserve, hiking the interest rates to combat inflation over the past few months. Bitcoin, Ethereum, and most cryptocurrencies suffered losses over the weekend after a broad sell-off following the data showing US inflation hitting a 40-year high," said Edul Patel Co-Founder and CEO of crypto investment platform Mudrex, told Financial Express.
"As investors seem to have panicked, the number of crypto liquidations has been high since Friday. Bitcoin and Ethereum plummeted as much as 7 per cent each and are currently trading at their lowest at US$25,000 and US$1,300. The bearish trend may likely continue in the next coming days"
Adam Smith13 June 2022 13:00
1655120438
Adam Smith13 June 2022 12:40
1655119238
Adam Smith13 June 2022 12:20
1655118038
Amid the liquidations, crypto lender Celsius told customers that they would be temporarily unable to withdraw funds from the platform. This has been seen before, with Binance stopping owners withdrawing when the TerraLuna cryptocurrency crashed.
Adam Smith13 June 2022 12:00
1655117738
"Now the clearest signal yet that cryptoassets such as bitcoin and ether are moving in lockstep with equities has flashed, as inflation worries have sent stocks and crypto tumbling. The reasons for this are varied, but much of it comes down to institutional holders, which calibrate their risk assets in similar ways, be they tech stocks or bitcoin."
Adam Smith13 June 2022 11:55
1655117438
The market crash also coincided with a similar capitulation of tech stocks in recent days, leading analysts to speculate that the two are reacting in tandem to external market forces.
"[Cryptocurrencies] have in the past not moved in step with traditional assets such as equities, however in recent times the link between the two has grown ever closer," Simon Peters, an analyst at the online trading platform eToro, wrote in a note on Monday.
Adam Smith13 June 2022 11:50
1655116838
There are a number of factors that have influenced this sell-off. In the United States and the United Kingdom, inflation is rising heavily and interest rates are likely to be increased to match.
Adam Smith13 June 2022 11:40
1655115749
The cryptocurrency market cap fell under $1 trillion on Monday for the first time since February 2021, according to CoinMarketCap data.
Adam Smith13 June 2022 11:22